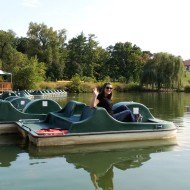 Boathouse Paddle Co.
Boathouse Paddle Co operates the boat rental on the dock at The Boathouse. The Boathouse Paddle Co. is open again for the 2020 season. Due to COVID-19 only paddle boats are available for rental at this time.
Paddle Boat - $20 per hour
Canoe - $20 per hour
Kayak - $15 per hour
Stand up Paddle Board XL - $20 per hour
Stand up Paddle Board - $15 per hour
2nd hour $15 for all boats. 
Location Details
Hours 
Tuesday-Sunday
12:00 p.m. until 7:00 p.m.
PHONE
314.798.2961
Since 1876, boating in Forest Park has been a popular St. Louis tradition. Year-round, take a leisurely sentimental journey on Post-Dispatch Lake, where you are likely to encounter colonies of ducks, heron, geese, kingfishers, schools of fish and turtles. You will also come across some of the Park's most treasured landmarks: The Saint Louis Art Museum, St. Louis Zoo, World's Fair Pavilion, Art Hill, Grand Basin and the Government Hill Fountain. 
Please note: Park visitors are not permitted to bring their own boats, kayaks, etc. into the Park's waterway.