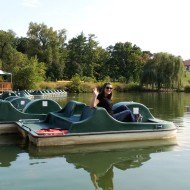 Paddleboating at the Boathouse
Since 1876, boating in Forest Park has been a popular St. Louis tradition. Year-round, take a leisurely sentimental journey on Post-Dispatch Lake, where you are likely to encounter colonies of ducks, heron, geese, kingfishers, schools of fish and turtles. You will also come across some of the Park's most treasured landmarks: The Saint Louis Art Museum, St. Louis Zoo, World's Fair Pavilion, Art Hill, Grand Basin and the Government Hill Fountain. 
Paddleboats are available for rental at a cost of $17 per hour. Paddleboats can accommodate up to 4 adults or 560 pounds. Life jackets are provided, but not required for those over 12 years old. The Boathouse does require children under 12 to wear life jackets. Life jackets are provided in sizes ranging from toddler to adult sizes. You must be 16 years of age or older with a valid photo ID to rent a boat without parental supervision. The Boathouse does not take reservations for the boat rentals. Wait times can vary dependent upon overall business. Boat rentals are available year-round, weather permitting.
Location Details
Hours 
Sunday: 10:00 a.m. to 1 hour prior to sunset.
Monday-Saturday: 11:00 a.m. to 1 hour prior to sunset.
Thursday evenings from June through September boat rentals stop at 5:00 p.m. in order to prepare for the Moonlight Paddleboat Picnic.
PHONE