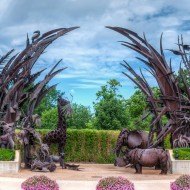 Animals Always
Animals Always, installed at the southeastern corner of the Saint Louis Zoo, is the largest sculpture in any public zoo in the United States. Unveiled in 2006, the 100-ton Cor-Ten steel installation includes more than 60 animals arranged in a jungle-like setting of ferns, plants and trees.
Location Details
HOURS
6 a.m. - 10 p.m. (Park hours)
Created by Albert Paley in his Rochester, NY, studio, the piece was shipped by road to its site, causing a sensation while in transit. The sculptor worked closely with Zoo staff to include animals featured at the Saint Louis Zoo; many of these animals are currently endangered. The contrast between the strength of the steel and the fragility of some species adds to the impact of the piece. 
Animals Always stands 36 feet high and is 130 feet long. All surfaces are smoothed, burnished and safe to touch. Funding for the sculpture came from Thelma Zalk, and the Steven F. Schankman family contributed the surrounding plaza. To get an up-close look, walk out the south entrance of the Zoo and up Wells Drive. See how many of the animals you can find hiding in the foliage!