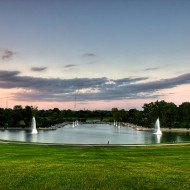 Emerson Grand Basin
During the World's Fair, the Grand Basin and adjoining plaza provided the central scenic panorama for the event's 20 million attendees. On either side stood a dozen temporary — yet grand themselves — palaces built of plaster and wood. The only permanent structure remaining from this area is the Cass Gilbert-designed Palace of Fine Arts, now the Saint Louis Art Museum. As part of the Forest Park Master Plan, the entire Grand Basin was restored in 2003, with eight beautifully lit fountains running year-round. Today the Emerson Grand Basin is one of the most popular sites in St. Louis for wedding and prom photos. On snowy days, Art Hill — between the Basin and the Art Museum — is a favorite family sledding spot for generations of St. Louisans.
Location Details
Hours
6 a.m. - 10 p.m. (Park hours)
Phone / RESERVATIONS
For inquiries about reserving this space, call the City's Parks Division at (314) 289-5389.