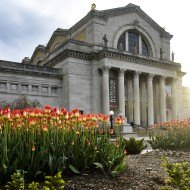 Saint Louis Art Museum
As one of the nation's leading art museums, the Saint Louis Art Museum is a great stop when visiting Forest Park. The Museum collects, presents, interprets, and conserves more than 33,000 works of art across time and cultures. Explore our Egyptian, African, Native American, American and European art collections of the late 19th through early 21st centuries. Plus visit our Contemporary collection in our David Chipperfield-designed East Building, which opened in June 2013. Our newest installation is the Grace Taylor Broughton Sculpture Garden, complete with walking paths, which marries masterworks with landscape design and architecture, and showcases our strong, international collection of 20th century and contemporary sculpture. Dining options include Panorama, our full-service restaurant, and the Café. The Museum Shops are known for an eclectic assortment of exquisite, art-inspired gifts, including art glass, jewelry, books, fashions and toys. Free collection tours are held daily. 
Location Details
REOPENING ON JUNE 16, 2020.
GENERAL ADMISSION 
Free (see website for exhibition costs)
Phone 
Address
1 Fine Arts Dr
St Louis, MO 63110