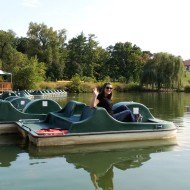 Big Muddy Adventures at the Boathouse
Big Muddy Adventures at the Boathouse operates the boat rental on the dock at The Boathouse and bike renteal on the grounds nearby.
Paddle Boat - $22 per hour
Canoe - $20 per hour
Kayak (single) - $15 per hour
Kayak (double) - $20 per hour
Stand up Paddle Board - $15 per hour
2nd hour $15 for all boats. 
Bike rentals are now an option in the Park through Big Muddy Adventures at the Boathouse, seven days a week from 11 a.m. - 7 p.m., located outside the entrance to the Boathouse. Helmets are provided with each bike rental: $15/hr. ID required. Sunscreen available - $3 Water bottles available - $5
Location Details
PHONE
314.798.2961
HOURS - CLOSED for the winter
Daily: 11:00 a.m. until 7:00 p.m.
Since 1876, boating in Forest Park has been a popular St. Louis tradition. Year-round, take a leisurely sentimental journey on Post-Dispatch Lake, where you are likely to encounter colonies of ducks, heron, geese, kingfishers, schools of fish and turtles. You will also come across some of the Park's most treasured landmarks: The Saint Louis Art Museum, St. Louis Zoo, World's Fair Pavilion, Art Hill, Grand Basin and the Government Hill Fountain. 
Please note: Park visitors are not permitted to bring their own boats, kayaks, etc. into the Park's waterway.