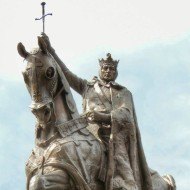 Apotheosis of St. Louis
During the 1904 World's Fair, the plaster statue sculpted by Charles Henry Niehaus was erected on the concourse of the Plaza of St. Louis, near the Park's north entrance, where the Missouri History Museum now stands. After the Fair, the Louisiana Purchase Exposition Company decided to present a bronze version of the sculpture to the City of St. Louis. The plaster was cast in bronze by W. R. Hodges, whose bid was considerably lower than that of the disappointed Niehaus, and unveiled at its present site on October 4, 1906. This statue served as a symbol of St. Louis until the completion of the Gateway Arch in 1965.
Location Details
HOURS
6 a.m. - 10 p.m. (Park hours)
Representing Louis IX of France (1214–70), the namesake of our city, this equestrian sculpture captures the king as a soldier. The horse appears to move forward, the draperies seem to flutter and the magnificent ermine cape decorated with the symbol of French monarchy, the fleur-de-lis, indicates royalty. The raised sword, held hilt upwards to form a cross, implies his leadership in battle. Louis led the Seventh Crusade (1248–54), a war waged in the Holy Land, present-day Israel and Palestine. Louis and his troops were defeated and captured, requiring a large ransom to secure their freedom. Despite losing the war, Louis did return to France with several sacred relics which secured Louis a reputation as the model for a Christian king (at that time). Declared a saint in 1297, he remained a popular holy figure through the 17th and 18th centuries.