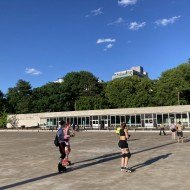 Steinberg Skating Rink
Steinberg Skating Rink is the largest outdoor ice skating rink in the Midwest, offering public ice skating all day — including all holidays — between mid-November and late February, and roller skating between May and October. Skate admission is valid for all day. 
Location Details
HOURS, Effective July 25:
Saturdays: Noon - 9 p.m.
Sundays: Noon - 8 p.m.
Mondays: 4 - 9 p.m. (complementary admission on Mondays)
Hours of operation are subject to change. Admission/rental fees, season pass and bumper cars info can be found here: https://www.steinbergrink.com

Phone
Address
400 Jefferson Dr.
St. Louis, MO 63110