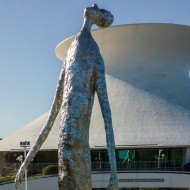 Looking Up by Tom Friedman
"Looking Up" was created by artist Tom Friedman, who hails from St. Louis. The piece is 33 feet-tall and made of stainless steel. Friedman's work involves the use of crushed aluminum foil, and other distorted and distressed metal objects, which are used as part of a molding and lost wax casting technique.
The Gateway Foundation has loaned the sculpture, "Looking Up," to the Saint Louis Science Center. It was installed outside the iconic James S. McDonnell Planetarium in late September 2018.