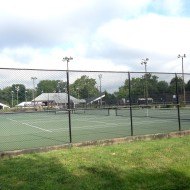 Dwight Davis Memorial Tennis Center
Dwight Davis Tennis Center is a state-of-the-art facility with 18 lighted tennis courts and a Stadium Court that seats 1,700 spectators. If you are a tennis enthusiast or just thinking about learning the game, DDTC has a program for you. There are programs for beginners to advanced players of all ages. There are also many opportunities for pass holders to play challenge matches and participate in special events. DDTC has all the amenities of a club; however it is completely open to the public. Dwight Davis Tennis Center is named after Dwight F. Davis, a native St. Louisan and the donor of the famed Davis Cup. Born in 1879, he spent his life working for and with people to make tennis in public parks available to all. As Director of Parks in St. Louis, he removed "Keep Off the Grass" signs that filled the citys parks. Click the website below for complete information. // 
Location Details
Phone 
(314) 361-0177 (Pro Shop)
HOURS
Mon - Fri: 8 AM - 8 PM
Sat & Sun: 8 AM - 6 PM
​​
All courts need to be reserved online.
Restrooms will be open .
Limited Concessions Available
Gates will be closed if below 40 degrees or any precipitation on the courts.
COVID-19 precautions can be found here.
Address
5620 Grand Drive
St. Louis, MO 63112