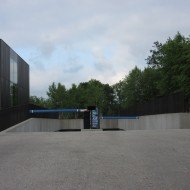 Parking: Saint Louis Art Museum Underground Lot (Pay)
This 300-space underground lot is just east of the Saint Louis Art Museum. Via the Museum's website: "Parking Garage Fees and Payment: $15 daily. Members, $5 daily. To receive the discount, tickets must be validated at one of the Museum's Information Centers prior to payment at the electronic pay station. Payment is accepted at the electronic pay station located on level P1. Please remember to take your parking ticket with you into the Museum for payment."
Location Details
Hours
The Garage is open to the public during Museum hours (30 minutes prior to opening to 30 minutes after closing), and is also available after hours for events in Forest Park, by arrangement.