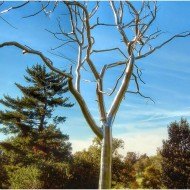 Placebo by Roxy Paine
The first outdoor sculpture to have been commissioned by the Saint Louis Art Museum, Placebo was installed in 2004.
Location Details
HOURS
6 a.m. - 10 p.m. (Park hours)
The tree-like sculpture Placebo rises 56 feet above the west lawn of the Saint Louis Art Museum and is set in the landscape among living trees. Its shiny, hard surface contrasts sharply with the rough dark limbs of the nearby trees and with their living color when in leaf. Constructed of 24 different-sized stainless steel pipes and rods, the sculpture has more than 5,000 pounds of branches welded onto the massive trunk. One of a series constructed by sculptor Roxy Paine for specific sites, Placebo was commissioned by the Art Museum using funds donated in memory of John Wooten Moore. 
Paine calls these sculptures "Dendroids" and says: "With the Dendroids I'm translating the trees into the specific language of industrial pipelines. I started the series in 1998; they all have dendritic structures — trees, neural networks, vascular systems — as their root…. For me, the trees are about ideas of permanence and impermanence, artificiality and contradictions in nature, and the idea of growth."