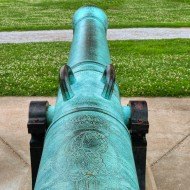 Spanish Cannon "Examinador"
The copper Spanish cannon, a muzzle loader weathered to an attractive green patina, is almost 12 feet long and was forged in 1783. Its name means "The Inspector."
Location Details
HOURS
6 a.m. - 10 p.m. (Park hours)
How did this Spanish cannon, forged in 1783, end up in Forest Park overlooking Lindell Boulevard? Until recently, no one remembered, nor knew that it had been placed there well over a century ago. Frustrated by not being able to tell visitors the history of the enigmatic gun, longtime Forest Park Forever volunteer Fred Ruhrwien undertook tenacious research that uncovered its story in 2010. 
Turned over to the United States after the Spanish-American War (1898), the cannon was given to St. Louis by the U. S. War Department in early 1900. It was intended to be displayed during a visit here by Admiral George Dewey, the "hero of Manila." However, lack of funding to construct a foundation for the cannon led to its installation being dropped from the festivities. 
Stored in a Forest Park police horse barn, there it languished for over a year until a satirical article in the St. Louis Post-Dispatch, written in the voice of the cannon, chronicled its distress at being reduced to living in a barnyard as a "sentry for the haystacks." Chagrined, City and Park officials quietly installed it in April 1901. However, it wasn't until Ruhrwien's investigation that a marker was mounted beside it explaining its provenance.