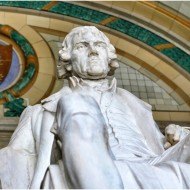 Thomas Jefferson Statue at the Missouri History Museum
The nine foot tall statue of Thomas Jefferson, designed by Karl Bitter, sits in the lobby of the Missouri History Museum. 
Location Details
HOURS
Monday, Wednesday, Thursday, Friday, Saturday, Sunday: 10 a.m. - 5 p.m.
Tuesday: 10 a.m. - 8 p.m.
GENERAL ADMISSION 
Free (see website for exhibition costs)
PHONE 
(314) 746-4599
ADDRESS
5700 Lindell Blvd
St. Louis, MO 63112
Popularly known as the 1904 St. Louis World's Fair, the Louisiana Purchase Exposition commemorated the 100th anniversary of the acquisition of vast amounts of land west of the Mississippi River during the administration of Thomas Jefferson. Bought from France in 1803, the Louisiana Purchase effectively doubled the size of the young nation.   
The Jefferson Memorial Building — today known as the Missouri History Museum — was built on the site of the entrance to the Fair by the Louisiana Purchase Exposition Company using proceeds from the event. It was the first national monument to honor the country's third President. Isaac Taylor, chief architect for the World's Fair, designed the building, and Karl Bitter, head of the sculpture programs for the Fair, created Jefferson's statue.  
Bitter was born in 1867 in Vienna, where he received his artistic training.  He immigrated to the United States in 1889 and, although still in his early 20s, was soon a successful and sought-after sculptor. He died when struck by a car in 1915. 
Bitter's nine-foot-tall marble statue of Jefferson sits in the loggia of the Beaux Arts limestone building atop a polished granite base under a terra cotta ceiling adorned with six pendant lamps. One of the largest crowds to gather in Forest Park since the World's Fair came together on April 30, 1913, exactly nine years after opening day of the Fair, for the dedication of the Jefferson Memorial. High schools and many businesses and public offices closed for half a day so all could attend, see the statue unveiled and witness David R. Francis, President of the Louisiana Purchase Exposition Company, hand over the keys to St. Louis Mayor Henry Kiel. The loggia was originally open to the elements, but on April 30, 1985, it was enclosed to protect the statue.