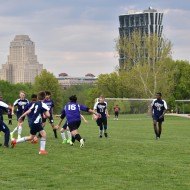 Emerson Central Fields
On April 25, 2019, the City of St. Louis and Forest Park Forever formally reopened and dedicated Emerson Central Fields, the 30-acre Forest Park site that has been dramatically improved since it went under construction in June 2017. This area hosts a variety of activities, from soccer and rugby to events like the Great Forest Park Balloon Race.
Location Details
Phone / Permit
To inquire about a permit for Central Fields, please call the Department of Parks, Recreation and Forestry at (314) 289-5389.