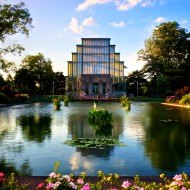 Jewel Box
When the Jewel Box was dedicated in 1936, crowds flocked to experience its magnificent Art Deco design. The structure's unique construction of cantilevered glass supported by arched steel beams also proved a ground-breaking (but not glass-breaking) technical achievement. In 1938, a hailstorm broke a thousand panes of glass in Forest Park's greenhouses — but not one in the Jewel Box. A $3.5 million renovation in 2002 transformed the interior into an open, sunlit space ideal for quiet moments, distinctive weddings and many other special events. The Flora Conservancy of Forest Park works with the City of St. Louis to maintain the beautiful floral arrangements around this area.
Location Details
ADMISSION
Admission is $1 per person, but it is free on Monday and Tuesday from 9 a.m. until noon.
public hours

The Jewel Box is open to the public:

Monday through Thursday, 9 a.m. to 4 p.m.
Friday, 9 a.m. to 3 p.m.
Saturday, 9 to 11 a.m.
Sunday, 9 a.m. to 2 p.m.
 
rental Hours
Saturday
Noon - 1:30 p.m.
2 p.m. - 3:30 p.m.
4 p.m. - 5:30 p.m.
Sunday
3 p.m. - 4:30 p.m.
5 p.m. - 6:30 p.m.
7 p.m. to 8:30 p.m.
Monday - Friday
5 p.m. - 6:30 p.m.
7 p.m. - 8:30 p.m.
PHONE
For information about weddings, receptions, dinners or special events, call the City's Parks Division at (314) 289-5389. The Jewel Box phone number is (314) 531-0080.