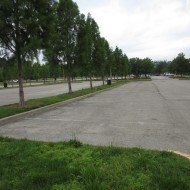 Parking: Visitor Center East and West Lots
This spacious lot, which has an East and a West portion, is located just south of the Dennis & Judith Jones Visitor and Education Center. It's a great parking option, including when you'd like to hop on the Forest Park Explorer (during its season) and when you're here during the early hours for a nice run or bike ride.
Location Details
commercial bus & RV parking
Such parking is allowed in this lot with a permit. To obtain one, call the Department of Parks, Recreation and Forestry at (314) 289-5300.
Hours
6 a.m. - 10 p.m. (Park hours)