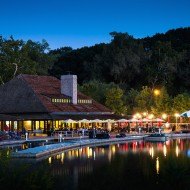 Boathouse
Located in the heart of Forest Park on Post-Dispatch Lake, the popular Boathouse was renovated in June 2003. The Boathouse now offers year-round dining opportunities, special event spaces and boat rentals. 
Location Details
Hours
Closed Mondays
Sunday & Tues - Thur: 11 AM - 7 PM (Bar Closes at 8 PM)
Fri & Sat: 11 AM - 8 PM (Bar Closes at 9 PM)

Due to COVID-19, there will be limited seating on the patio only. https://boathousestl.com/welcome-back/
PHONE
ADDRESS
6101 Government Drive
St. Louis, MO 63110
Dining on the banks of Post-Dispatch lake is a part of our town's history. Food and boating are natural companions, and The Boathouse at Forest Park has fed intrepid navigators since its construction almost twenty years ago. This year, the Boathouse is being reestablished as a place to fuel up and then cast off. Explore the 22 acres of waterways that wind around two islands, and are home to fish, frogs, dragonflies, egrets, kingfishers, and of course, our ducks.