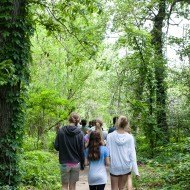 Kennedy Forest
Dedicated in 1964, John F. Kennedy Memorial Forest consists of more than 60 acres of mature forested habitat and was the first area in Forest Park to be set aside for environmental conservation. With nearly 3.5 miles of paved and gravel trails, this area attracts runners, bikers and hikers at all times of the year. Kennedy Forest is also a well-known and popular site for birding in St. Louis. The proximity of Forest Park to the Mississippi and Missouri Rivers confluence and along the Mississippi River flyway makes Kennedy Forest a great stopping spot for over 100 species of migratory birds, including dozens of species of warblers during the spring and late-summer months. In addition, wetland site throughout the forest provide seasonally wet habitat otherwise rare throughout the park. These fish-free wetlands function as habitat for several frog species which can be heard calling from spring into summer. Forest Park Forever's Nature Reserve Staff care for Kennedy Forest, with some programing and partnership funding coming from the Missouri Department of Conservation.
Location Details
Hours
6 a.m. - 10 p.m. (Park hours)
Songbird in Kennedy Forest
More
To learn more about birding opportunities in Forest Park — including in Kennedy Forest — visit this page.