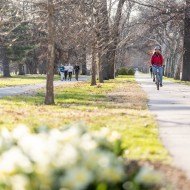 Dual Recreational Path
One of Forest Park's most popular features is the nearly 6-mile Dual Recreational Path that circles the Park (and in some cases cuts through it). The soft gravel surface is meant to accommodate walkers, joggers and others traveling at a slower velocity, while the hard surface is intended most for those on bikes or blades. (One is meant for "heels," the other "wheels.") Please note that these are guidelines only, not official restrictions — all visitors are encouraged to share the path, so that everyone can have an enjoyable, safe time in the Park.
Location Details
Hours
6 a.m. - 10 p.m. (Park hours)
Like to run in Forest Park? You would love the I Love Forest Park 5K and Kids Fun Run. Register today!