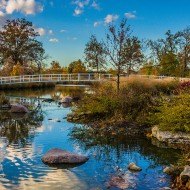 Picnic Island
Picnic Island provides a perfect spot for an informal blanket-on-the-grass picnic. Photo tip: The suspension bridge within this area is a favorite spot for photographers. 
Location Details
HOURS
6 a.m. – 10 p.m. (Park hours)
visitor tip
There no traditional picnic tables within this natural area (there are many others Park-wide), so be sure to arrive with your own blanket. 
Canada Goose at Picnic Island