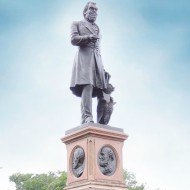 Edward Bates Statue
The bronze statue of Edward Bates was dedicated in 1876 concurrently with the official dedication of Forest Park. Originally intended for Lafayette Park, it was sculpted by James Wilson Alexander MacDonald, a New York artist who had lived in St. Louis from 1844 until after the Civil War. The pedestal medallions depict Henry Sheffie Geyer, who acted as counsel in the Dred Scott case; Hamilton Gamble, Bates' law partner and governor of Missouri during the outbreak of the Civil War; Charles Gibson, author of the legislation which resulted in the establishment of Forest Park; and James Eads, engineer and inventor. The medallions were added at a later date.
Location Details
Hours
6 a.m. - 10 p.m. (Park hours)
Edward Bates helped draft the first constitution of the new state of Missouri and served as its first Attorney General. He is also honored with the first statue to be placed in Forest Park. Born in Virginia in 1793, he moved to the St. Louis area of the Missouri Territory in 1814, where he studied law and was admitted to the bar. He served in the Missouri House and Senate as well as the U.S. House of Representatives. As one of four main Republican candidates running for President in 1860, he lost to Abraham Lincoln and is best known for serving in Lincoln's cabinet, the so-called "team of rivals," as Attorney General from 1861–1864. 
The Bates statue was moved in the mid-1930s during the construction of the Oakland Express Highway (now Interstate 64/US 40) from the southeast end of Forest Park to its current location at the intersection of Fine Arts Drive and Lagoon Drive.