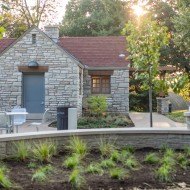 Restroom: Near World's Fair Pavilion (Year-Round)
The City of St. Louis Parks Division and Forest Park Forever are pleased to announce the opening of a significantly renovated comfort station and new gathering plaza in Forest Park near the World's Fair Pavilion and the future Nature Playscape on September 30, 2020.
This restroom and drinking fountain is available all year long. Includes: 
New plaza tables with chairs and umbrellas 
Six new bike racks
Two phone-charging/electrical outlet stations
Location Details
Hours
6:00 a.m. until 10:00 p.m.