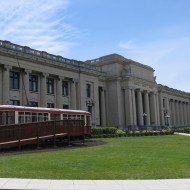 Missouri History Museum
The North Plaza of the Missouri History Museum is under construction and will remain closed until late spring 2024.
One of the most visited history museums in the nation, the Missouri History Museum looks at the history of the St. Louis region from the Mississippian people up to the present day. The Museum's historic building was the first national monument to Thomas Jefferson, and opened to the public in 1913 on the site of the entrance to the 1904 World's Fair. Visitors can discover the city's baseball history from the Browns to the Cardinals, see "The Spirit of St. Louis" — sister plane to Lindbergh's, explore life on the Mississippi River, marvel at the magnitude of the 1904 World's Fair, learn about the Civil Rights movement, and much more. The Museum's History Clubhouse exhibit is nearly 6,000 square feet of hands on and immersive history experiences for children. Collecting for 150 years, MHM has one of the largest collections of artifacts and historical materials of any regional history museum in the country and is committed to creating and hosting the most dynamic and engaging history exhibitions, which rotate throughout the year.
Location Details
HOURS
Monday: Closed
Tues., Wed., Friday-Sunday: 10am - 5pm
Thursday: 10am - 8pm

GENERAL ADMISSION 
Free (see website for exhibition costs)
Phone 
Address
5700 Lindell Blvd
St. Louis, MO 63112
Welcome to the Missouri History Museum