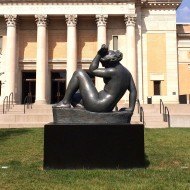 Grace Taylor Broughton Sculpture Garden, Saint Louis Art Museum
Thoughtfully marrying masterworks with landscape design and architecture, this exciting outdoor gallery showcases the Museum's strong, international collection of 20th century and contemporary sculpture. 
Location Details
HOURS
6 a.m. - 10 p.m. (Park hours)
The design of the Sculpture Garden consists of walking paths and more than 400 new trees artfully arranged in discreet "rooms" to reflect the design of the East Building, which opened in June 2013. The transformative project immediately south of the museum, as well as an endowment to fund its upkeep, are made possible by a gift from Barbara B. Taylor, president of the Saint Louis Art Museum Board of Commissioners, and Andrew C. Taylor, executive chairman of St. Louis-based Enterprise Holdings, Inc. The garden is named in honor of their granddaughter, Grace Taylor Broughton. The Sculpture Garden, conceived by noted French landscape architect Michel Desvigne, completes the Art Museum's physical transformation and creates a distinctive connection to the Museum's home in Forest Park. The sculpture installation is curated by Simon Kelly, curator of modern and contemporary art.