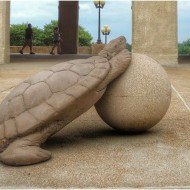 Turtle Monument
In addition to the giant turtles in Turtle Playground, a smaller turtle statue is located on the south side of the World's Fair Pavilion. The ball upon which the turtle rests its front feet has a plaque that reads: "In admirable, respectful and very loving memory of Myron Glassberg. May his deep love for Forest Park and the Pavilion echo here forever.  Mrs. Myron Glassberg, 1998."  Mrs. Glassberg considered turtles to be symbols of peace. Like its relatives in Turtle Playground, the World's Fair Pavilion turtle was designed by Bob Cassilly. 
Location Details
hours
6a.m. - 10 p.m. (Park hours)
In addition to funding Turtle Playground in 1996, Sonya Glassberg, known as "Sunny," was the major benefactor for the $1.1 million renovation of the World's Fair Pavilion. Referring to the restoration of the 1909 structure as a birthday gift to herself, she was 80 when it reopened in 1998.  
Mrs. Glassberg's husband, Myron, was a successful contractor who died in 1991. He loved St. Louis and its parks, and his wishes guided her charitable giving. He particularly loved the Pavilion, which had fallen into disrepair. Forest Park Forever officials surprised Mrs. Glassberg with the idea for the sculpture and its dedication to her husband.