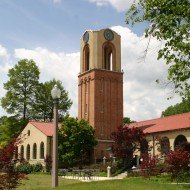 Dennis & Judith Jones Visitor and Education Center
Originally built in 1892 as the Lindell Pavilion Streetcar shelter, the Dennis & Judith Jones Visitor and Education Center is a historically significant component of the extensive restoration of Forest Park. With its distinctive Spanish architecture and clock tower, the Visitor Center serves as a central hub for visitor information and education, and it also houses a beautiful banquet facility and meeting rooms. 
Location Details

Monday - Friday: 6 AM - 7 PM
Saturday - Sunday: 6 AM - 5 PM (Delayed hours Saturday, Jan. 8, 2022: 9 AM - 5 PM)

Locker facility rentals are currently not being offered
Welcome from Forest Park Forever President & Executive Director Lesley S. Hoffarth, P.E.
What awaits you at the Visitor Center? 
Forest Park Forever Offices
Need to renew your membership? Meet about a tree donation? We're here to help between 8:30 a.m. – 5 p.m., Monday - Friday. Need to call us? We're at (314) 367-7275. We are aware of the latest St. Louis City and County guidelines and are closely following the advice provided by our local health officials related to the COVID-19 pandemic. Per the City of St. Louis face covering mandate for indoor spaces, we will be requiring all Park visitors who enter the Forest Park Visitor Center to wear a face covering beginning July 26.
 
For the full City of St. Louis guidance, click here. 
Forest Perk Café
Now open!
Meeting Rooms & Trolley room for Rent
Visit this page to learn more. Or call (314) 561-3288.
Variety Wonderland Playground
Located just west of the building is the Dennis & Judith Jones Variety Wonderland Playground, a half-acre, state-of-the-art playground specifically designed for ALL children — able-bodied and those with disabilities. 
Locker Facilities for Rent
Helpful Volunteers 
Volunteers from the St. Louis Convention & Visitor's Center cheerily man the desk here, answering questions of all kinds.