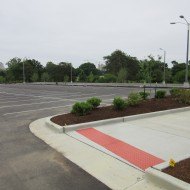 Parking: Festival & Parking Plaza
Long known as the Upper Muny Lot, the Festival & Parking Plaza was opened in May 2015, after a $3 million transformation funded by Forest Park Forever. This space is used by Muny patrons during the show's season, but also by many other Park users throughout the year. 
Location Details
Commercial bus & rv parking
Such parking is allowed in this lot with a permit. To obtain one, call the Department of Parks, Recreation and Forestry at (314) 289-5300.
Hours
6 a.m. - 10 p.m.