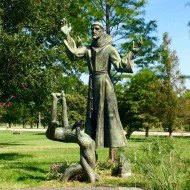 St Francis of Assisi
A statue of nature-loving St. Francis stands near the Jewel Box overlooking the reflecting pools, which are filled in season with water lilies and alive with dragonflies and butterflies. His arms are raised as if preaching to the birds that perch on and around him. Born into a prosperous Italian family in 1181, St. Francis of Assisi renounced his wealth to live a life of poverty and prayer.
Location Details
Hours
6 a.m. - 10 p.m. (Park hours)
Sculpted by Carl C. Mose, who also created the Jewish Tercentenary Monument in Forest Park, the bronze statue was commissioned by Alice Martin Turner, widow of Harry Turner. It was installed in his memory in 1962, more than 30 years after his death. Perhaps by that time few recalled the colorful life of Harry Turner.  After an early career as one of St. Louis' first automobile dealers, in the 1920s Turner turned to the arts and finance. He was the publisher of a bimonthly arts journal called Much Ado. He ran into legal problems over content published in that journal. Turner died in 1931. Although her husband was no saint, Turner's wife maintained he "resembled St. Francis in his love for humanity and simple natural things.