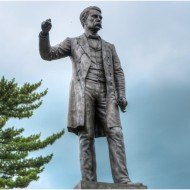 Frank Preston Blair, Jr. Statue
The bronze statue of Frank Preston Blair, Jr. was commissioned by the Blair Monument Association. After two competitions to select a sculptor produced no winner, Wellington Gardner, working at Washington University, submitted the design that was accepted. At the dedication of the monument on May 21, 1885, General Sherman said that Blair "did more than any single man to hold this great central city [St. Louis] of our Union to her faithful allegiance to the General Government, so necessary to the perpetuity of the Union." The statue originally stood in the intersection of Kingshighway and Lindell Boulevards.
Location Details
HOURS
6 a.m. - 10 p.m. (Park hours)
Frank Preston Blair, Jr. was born in Kentucky in 1821 with politics in his blood. His father was brought to Washington in 1830 by Andrew Jackson to edit the Washington Globe, and young Frank absorbed the ideals of the Jacksonian White House. In 1843, after graduating from law school, Blair moved to St. Louis to go into practice with his brother, Montgomery Blair, who would later become Postmaster General in President Lincoln's cabinet. 
As the Civil War loomed, Blair was committed to the Union cause and organized the First Missouri Volunteer Infantry Regiment to help defend the state against Missouri secessionists. Serving in several campaigns, including leading divisions under Generals Grant and Sherman, he retired from the military with the rank of major general. He was elected to the Missouri House in 1852, to the U.S. House of Representatives in 1857 and 1860, and was appointed to the U.S. Senate in 1871 to fill a vacancy. After suffering a stroke in 1872, he was unable to stand for reelection. Blair died in 1875. Although he fought for the Union, he held strong anti-Reconstructionist views after the war.