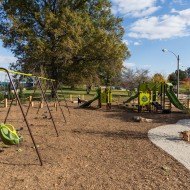 Oakland Avenue Playground
The award-winning Oakland Avenue Playground is located on Forest Park's southern edge near the intersection of Tamm and Oakland Avenues. The $300,000 project was funded by donations to Forest Park Forever, including a lead grant from the PNC Foundation, and the City of St. Louis. 
Oakland Playground was designed based on the feedback and ideas of hundreds of area community members who took part in online and in-person surveys and discovery sessions in 2020. Its popular stump turtle, a 20-foot climbable turtle made of 144 tree stumps with a head and legs sculpted by a local artist, won an ASLA merit award in the Art and Landscape Architecture category. Learn more about the features of the playground here.