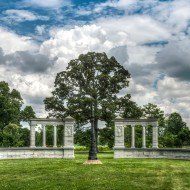 Vandeventer Place Gates
Another remnant of the 1904 World's Fair? No, this granite-and-iron entrance gate, installed in an open area near the Jewel Box in 1950–51, once guarded the east entrance to Vandeventer Place, the most exclusive address in St. Louis in the late 19th century. 
Founded in 1870, it was named for Peter L. Vandeventer, a successful Wall Street stockbroker who owned much of the land on which it was built. It was bounded by Grand, Bell, Enright and Vandeventer Avenues. Vandeventer Place was designed by Julius Pitzman, who later served as chief engineer for the development of Forest Park, and also designed Compton Heights, Washington Terrace and Parkview in St. Louis. The Vandeventer Place enclave was conceived by businessmen Charles H. Peck, Napoleon Mulliken and John McCune. 
Eighty-six lots faced a central parkway, and stately houses designed by well-known architects such as Henry H. Richardson and the firm of Eames and Young graced its streets. Influential men such as David R. Francis, former St. Louis mayor, Missouri governor and later president of the World's Fair, called it home. The gates themselves were not installed until 1894, by which time the dirt and smoke of the surrounding city began to press upon its boundaries, and it began to fall from favor as a fashionable area. In 1947, the Veterans Administration razed the eastern half of Vandeventer Place to build its new hospital. Not long after, the City tore down the western end and developed a juvenile detention center. The relocated Vandeventer Gates and fountain are all that remain of a once distinguished neighborhood.