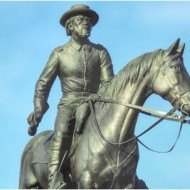 General Franz Sigel Statue
This bronze statue of General Franz Sigel (1824–1902) was designed and funded by the Sigel Monument Association "to remind future generations of the heroism of German-American patriots in St. Louis and vicinity in the Civil War of 1861–1865." 
Location Details
hours
6 a.m. - 10 p.m. (Park hours)
The first equestrian statue in St. Louis, it was sculpted by Robert Cauer, the artist who also crafted the bust of Friedrich Jahn in Forest Park. Both monuments were cast in Lauchhammer, Germany. 
Born in Baden, Germany, Sigel was a military leader in the unsuccessful Revolution of 1848 in Germany and went into exile after defeat. Following a stay in England, he arrived in New York in 1852. He was hired in 1857 to head the German-American Institute in St. Louis and became influential in the immigrant community here. 
When the Civil War broke out, Sigel was a leader of the pro-Unionist immigrants and was commissioned colonel of the 3rd Missouri Infantry, commanding a large contingent of German-Americans. His most successful contest was the Battle of Pea Ridge in Arkansas, after which he was promoted to major general. He saw military service in both this area and the eastern fronts, and after the war he returned to New York where he was active in politics and publishing. Hundreds of Civil War veterans who "fought mit Sigel" attended the dedication of his monument in June 1906.