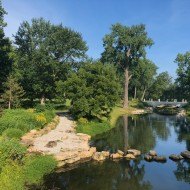 Moore Meadow
Moore Meadow is a popular place for photos on the stepping stones that cross the waterway.
Location Details
6 a.m. – 10 p.m. (Park hours)
In the heart of Forest Park — between the Boathouse and the Muny, just southwest of Pagoda Circle — a major restoration project finished in the spring of 2018 to improve the visitor experience. This $3.1 million improvement project, funded by donations to Forest Park Forever's $130 million capital campaign Forever: The Campaign for Forest Park's Future, holistically improved the area.
Moore Meadow's improvements include significant natural enhancements to the flowing waterway in the area known as the Muny Tributary and the surrounding grounds — removing invasive species, making the shoreline more attractive and approachable, adding a stepping-stone crossing and boulder seating, and more.