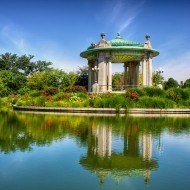 Pagoda Circle and the Nathan Frank Bandstand
Dedicated in 1925 and built with white marble and concrete with bronze rails and a copper roof, today's Nathan Frank Bandstand — restored in 2000 — is still a Forest Park and St. Louis icon. The Flora Conservancy of Forest Park works with the City of St. Louis to maintain the beautiful floral arrangements around this area.
Location Details
Note
Visitors are not allowed to enter the water to get to the bandstand itself. 
The original bandstand on this site was built around the time Forest Park opened in 1876. Constructed of wood, it was renovated for the 1904 World's Fair and was one of the Fair's most photographed structures. Concerts held there were popular attractions and were continued for several years after the Fair. It closed in 1911 for repairs but was destroyed not long after by a storm and fire. 
The site stood empty until 1924, when St. Louis lawyer Nathan Frank donated $50,000 to erect a new bandstand, making the first private gift to a St. Louis park. It was dedicated in 1925. Of classic Renaissance design, the new bandstand was designed by Heffensteller, Hirsch and Watson and made of white marble with bronze railings and ornaments. 
Nathan Frank was born in 1852 to German-Jewish immigrants. The family moved to St. Louis in 1862. Frank received his law degree from Harvard in 1871 and, except for serving one term in the House of Representatives in 1889, he spent his long civic career in St. Louis. He served as a vice president of the Louisiana Purchase Exposition Company, which planned and operated the 1904 World's Fair. In addition to his law practice, he also founded the St. Louis Star newspaper and was active in real estate. 
The Nathan Frank Memorial Bandstand, as it was named after his death in 1931, has been renovated twice since it opened. In 1981, the Central West End Charitable Trust raised funds to complete roof repairs and electrical work. In 1993, funding from Forest Park Forever and landscaping by the Flora Conservancy restored it to its original beauty.