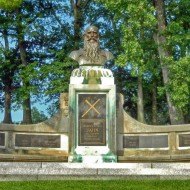 Friedrich Jahn Memorial
Below and to the east of Art Hill stands the 41-foot-long Friedrich Jahn Memorial. Friedrich Jahn, a German-Prussian gymnastics educator and nationalist, founded the Turnverein, an international gymnastic and social society, in Germany in 1811. "Vater Jahn" was known as the "father" of gymnastics and believed in a sound mind in a sound body. 
Location Details
HOURS
6 a.m. - 10 p.m. (Park hours)
The monument was sculpted by Robert Cauer, who also created the statue of General Franz Sigel. The work was paid for and installed by the North American Turn Bund in 1913 near the site of the German pavilion during the 1904 World's Fair. In 1913, almost 15% of the population of St. Louis was German, and the city was home to more than 150 German cultural societies, of which some of the most influential were the 12 Turnvereins located throughout the city.
The large bronze bust of Jahn is flanked on either end of the granite and limestone semi-circular base by a youth putting the shot and a young woman engaged in a graceful wand dance. There are six polished black granite informational plaques, which replaced the original bronze plaques, along the base. 
The monument was restored and rededicated by the American Turners in 1972, and again in 1989 by the American Turners and Forest Park Forever. More restoration was completed in late 2013 and 2014.