COVID-19 Updates
Updated March 31, 2020 — As the St. Louis community works together to prevent the spread of COVID-19, we ask that anyone who chooses to visit Forest Park abide by the guidance of health and government officials as you responsibly get some fresh air. Some key information to know:
Road Closures:
In an effort to provide more room for pedestrians to spread out during a Forest Park visit, the City of St. Louis enacted the following vehicular road closures on the morning of March 31: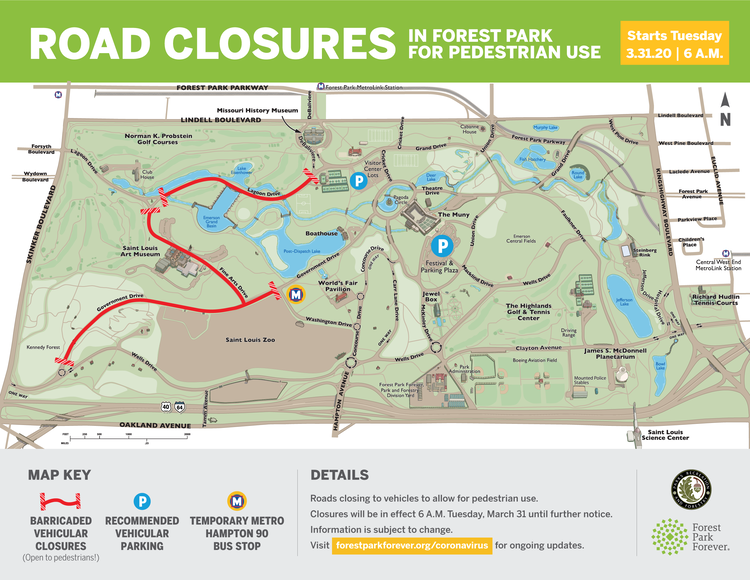 Please note: While no Forest Park entrances are closed as part of this COVID-19 access change, the entrance at Lindell/Cricket will be closed Wednesday, April 1 – Friday, April 3, for important paving work. Relatedly, there is a path detour in this area as well.
Visitor Reminders:
Do not visit if you are exhibiting symptoms.
Maintain at least 6 feet of distance from others.
Share the paths and notify others if you are passing.
Avoid touching anything, such as water fountains, bench handles, etc.
Avoid crowds of 10 or more.
If you are crossing a bridge, please ensure there are no oncoming pedestrians before crossing.
Temporary Closure Notes:
In addition to the cultural institution that have closed to the public, please note the following additional temporary closures:
Dennis & Judith Jones Visitor and Education Center
Playgrounds in Forest Park
Tennis courts, pickleball courts, racquetball courts and handball courts (see Mayor Krewson's announcement)
Golf cart use at Probstein and Highlands Golf Courses in Forest Park are temporarily prohibited. Golfers are required to walk the courses while following the recommended social distancing guidelines of staying six feet apart.
Additional Visitor Tip:
We also encourage anyone choosing to visit 1,300-acre Forest Park to explore less popular areas of the Park, where you are likely to encounter fewer fellow visitors. This website should be a helpful guide in that endeavor.
Lastly, we invite you to read a special announcement from Forest Park Forever President and Executive Director Lesley S. Hoffarth about how our conservancy is responding to this evolving situation.
---
Forest Park Visitor & Community Study
January 13, 2020 – Forest Park Forever, in partnership with the City of St. Louis Department of Parks, Recreation and Forestry, has engaged Washington University's Brown School of Social Work to facilitate a two-year, comprehensive study of Forest Park visitors. The research team is identified as the PARCS team, which stands for Park Activity & Recreation Community Study.

If you have visited Forest Park at least once in the past year, please consider participating in a brief intercept survey if approached while in the Park. An alternate option is to complete a short, 5-to-10-minute online survey by clicking here.

Need more information? Find it at this link.
---
East Waterways Project Designs Announced


November 5 – Forest Park Forever and the City of St. Louis are thrilled to announce plans to restore and greatly improve the river system and lakes on the beautiful east side of Forest Park. Funded by donors to Forest Park Forever's recently completed Forever capital and endowment campaign, the project will be a major win for the Park, millions of visitors and the regional environment. Learn more!
---
Saint Louis Zooline Railroad Closure

October 23 – Starting Monday, November 4, the Emerson Zooline Railroad will be closed for track improvements. The railroad will reopen in spring 2020.
---
Now Open: Boeing Aviation Fields
September 4, 2019 — Boeing Aviation Fields, the popular fields for baseball and softball just north of I-64, are now open! Highlights of the new improvements include new LED lighting, which will result in more available playtime at these sought-after ballfields.
---
Now Open: Path Extension Along Kingshighway

August 16, 2019 – There is a new path making it easier for walkers, runners, cyclists and neighbors to enter Forest Park from the Central West End. The 1/3-mile extension to Forest Park's recreational path is complete on the Park's eastern side! Generously funded by supporters of Forest Park Forever, the ADA-accessible trail connects from Hospital Drive to Forest Park Parkway between Steinberg Skating Rink and Kingshighway.

Pictured: City of St. Louis Director of Parks, Recreation and Forestry Greg Hayes and Forest Park Forever President and Executive Director Lesley S. Hoffarth.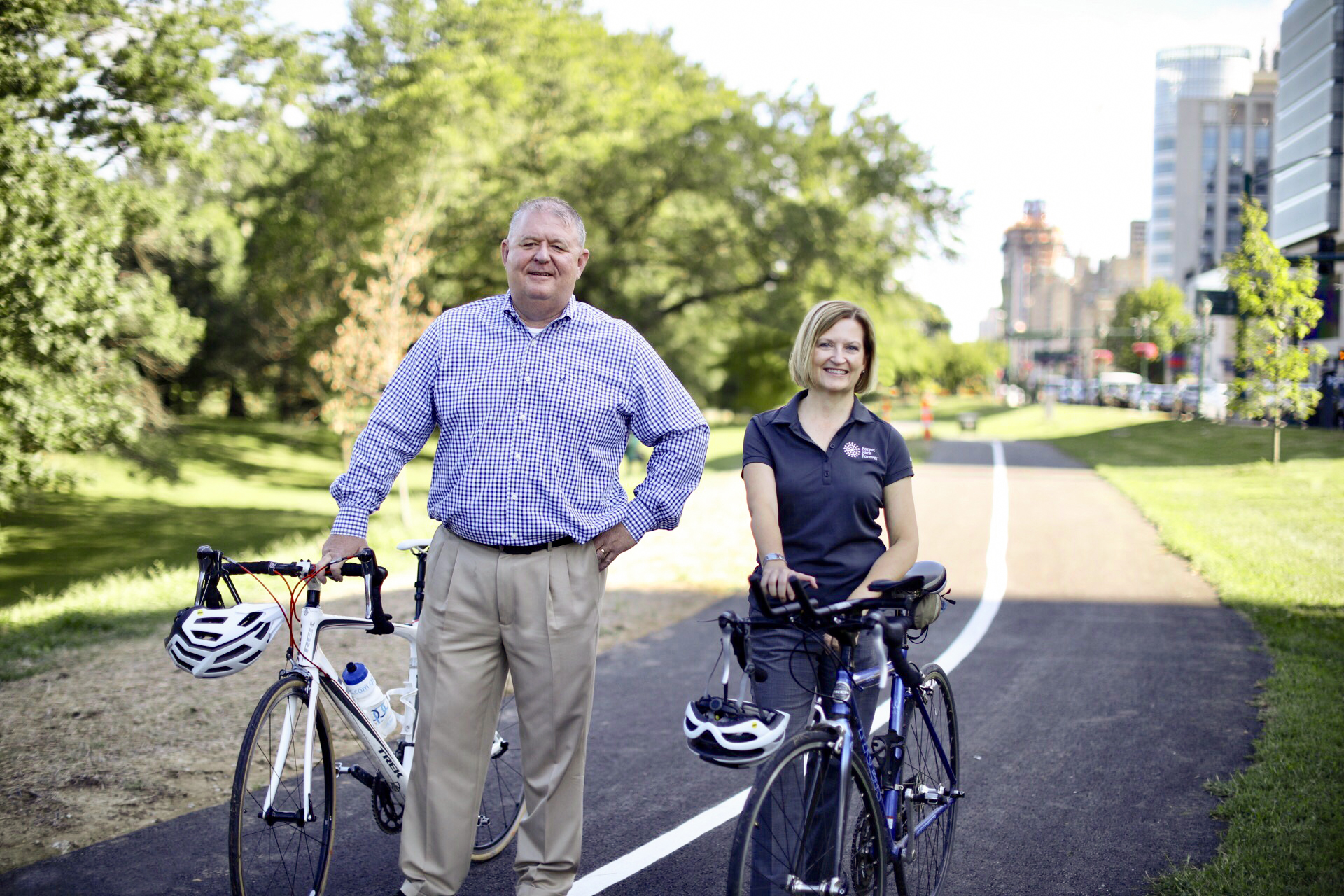 ---
Nature Playscape Coming to Forest Park in 2020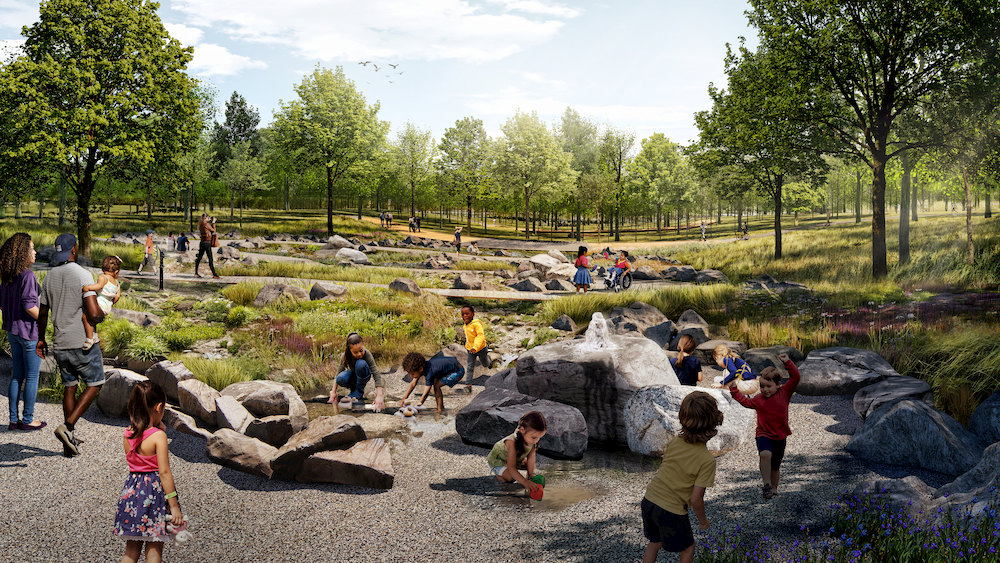 July 15, 2019 — On July 15, 2019, leaders from Forest Park Forever and the City of St. Louis held a ceremonial groundbreaking for a new Nature Playscape in Forest Park. The experiential Playscape is being created on 17 acres in the heart of the Park, between the World's Fair Pavilion and the Jewel Box.
Funded by donors to Forest Park Forever, the Nature Playscape in Forest Park has been designed to feature eight 'activity areas,' including Mounds, Spring, Meadow, a Wetland and more. A series of paths and boardwalks will connect the distinct areas, creating opportunities for kids and families to climb, splash, build and explore their way through the site. Click to learn about the key goals for the Nature Playscape project.
---