East Waterways Project Designs Announced


November 5 – Forest Park Forever and the City of St. Louis are thrilled to announce plans to restore and greatly improve the river system and lakes on the beautiful east side of Forest Park. Funded by donors to Forest Park Forever's recently completed Forever capital and endowment campaign, the project will be a major win for the Park, millions of visitors and the regional environment. Learn more!
---
Saint Louis Zooline Railroad Closure

October 23 – Starting Monday, November 4, the Emerson Zooline Railroad will be closed for track improvements. The railroad will reopen in spring 2020.
---
Now Open: Boeing Aviation Fields
September 4, 2019 — Boeing Aviation Fields, the popular fields for baseball and softball just north of I-64, are now open! Highlights of the new improvements include new LED lighting, which will result in more available playtime at these sought-after ballfields.
---
Now Open: Path Extension Along Kingshighway

August 16, 2019 – There is a new path making it easier for walkers, runners, cyclists and neighbors to enter Forest Park from the Central West End. The 1/3-mile extension to Forest Park's recreational path is complete on the Park's eastern side! Generously funded by supporters of Forest Park Forever, the ADA-accessible trail connects from Hospital Drive to Forest Park Parkway between Steinberg Skating Rink and Kingshighway.

Pictured: City of St. Louis Director of Parks, Recreation and Forestry Greg Hayes and Forest Park Forever President and Executive Director Lesley S. Hoffarth.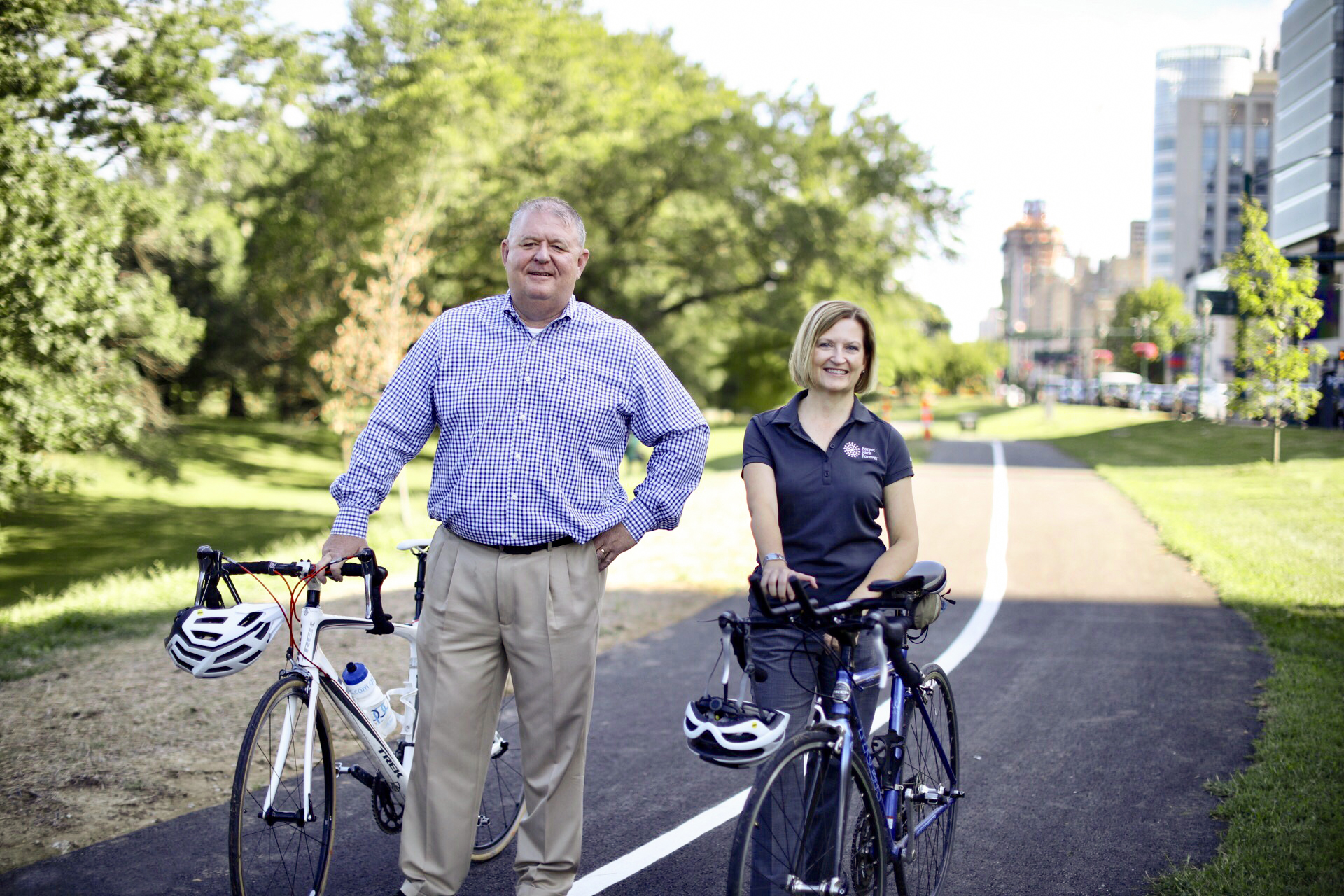 ---
Nature Playscape Coming to Forest Park in 2020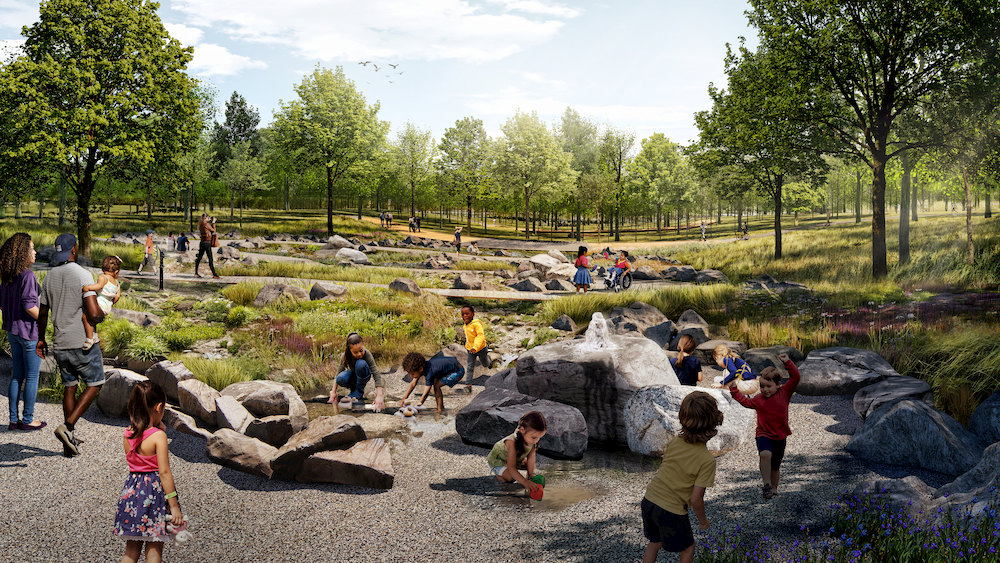 July 15, 2019 — On July 15, 2019, leaders from Forest Park Forever and the City of St. Louis held a ceremonial groundbreaking for a new Nature Playscape in Forest Park. The experiential Playscape is being created on 17 acres in the heart of the Park, between the World's Fair Pavilion and the Jewel Box.
Funded by donors to Forest Park Forever, the Nature Playscape in Forest Park has been designed to feature eight 'activity areas,' including Mounds, Spring, Meadow, a Wetland and more. A series of paths and boardwalks will connect the distinct areas, creating opportunities for kids and families to climb, splash, build and explore their way through the site. Click to learn about the key goals for the Nature Playscape project.
---
OMNIMAX Theater Temporarily Closed July 29 Until Late November
July 1, 2019 — The OMNIMAX Theater at the Saint Louis Science Center will be temporarily closed July 29 until late November. The original film projection system will be replaced with laser technology as well as other exciting updates that can be found at their blog here.
---
Clayton Ave. Entrance to the Park Closed Until the Fall

May 2, 2019 — The Clayton Ave. entrance to the Park that runs under Kingshighway is closed for the next few months. Thank you for your patience during this time.
---