Nature Playscape Update
October 22, 2020 – Forest Park Forever and the City of St. Louis Parks Division are pleased to share this community update about the Anne O'C. Albrecht Nature Playscape in Forest Park, which is anticipated to open in late spring 2021. We look forward to keeping the community updated about this exciting project.
---
New World's Fair Pavilion Comfort Station & Gathering Plaza


September 30, 2020 – The City of St. Louis Parks Division and Forest Park Forever are pleased to announce the opening of a significantly renovated comfort station and new gathering plaza in Forest Park near the World's Fair Pavilion and the future Nature Playscape. What had been just a partial-year restroom has been transformed into a renovated and modernized building with year-round restrooms and a spacious new gathering plaza where visitors can meet, unwind and even charge their phones. Learn more about the highlights here.
---
COVID-19 Updates
Updated September 29, 2020 — The playgrounds in Forest Park are now back open to the public. Please maintain a social distance of 6-feet on the playground. Masks are required to enter the playground areas. Thank you for your patience.
Updated June 15, 2020 — As the St. Louis community works together to prevent the spread of COVID-19, we ask that anyone who chooses to visit Forest Park abide by the guidance of health and government officials as you responsibly get some fresh air. (We also have some tips below.) In addition to our special online #ForestParkatHome series, we are using this page to gather up key updates for your next visit:
Open:
Closed or Cancelled:
Handball Courts
The Muny 2020 Season — view details of The Muny Magic in Your Homes
Playgrounds
Racquetball Courts
Shakespeare in the Park 2020 Season — view details of Shakespeare TV
Visiting Responsibly
Do not visit if you are exhibiting symptoms.
Maintain at least 6 feet of distance from others.
Maintain 50 feet from staff working in the Park
Share the paths and notify others if you are passing.
Avoid touching anything, such as water fountains, bench handles, etc.
Avoid crowds of 10 or more.
If you are crossing a bridge, please ensure there are no oncoming pedestrians before crossing.
Visit a less-crowded part of the Park (here are six great options)
Roads Currently Closed to Vehicular Traffic: (see map below)
Lagoon Drive between DeBaliviere and Fine Arts Drive
Cricket Drive between Lindell Blvd. and Grand Drive
Faulkner Drive between Grand Drive and Wells Drive
Wells Drive between Faulkner Drive and the McKinley Traffic Circle
Macklind Drive between Wells Drive and Union Drive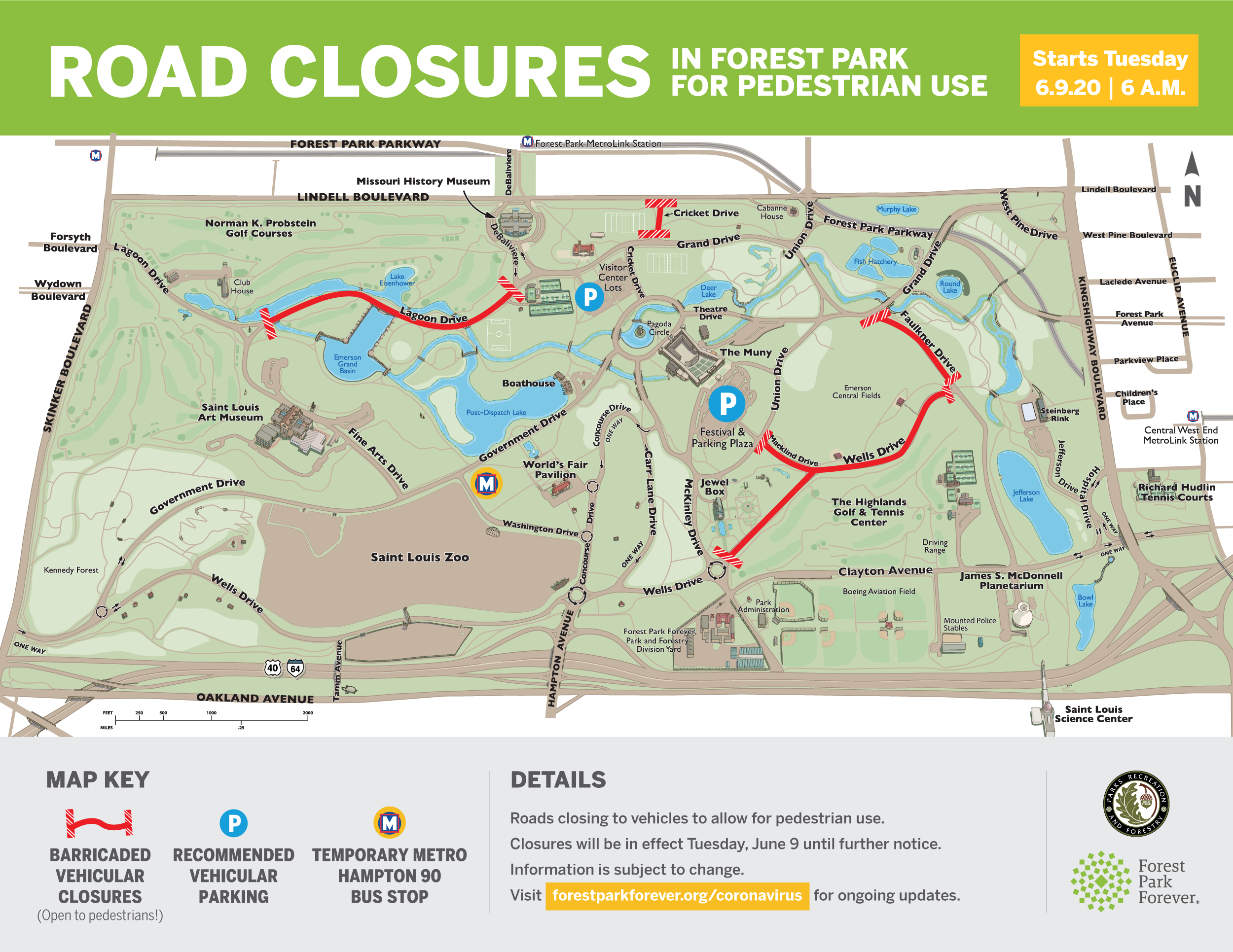 ​Note: these closures are intended to be temporary and are subject to change.
Additional Notes:
If you are a locker member and would like to reach out to us about removing any personal items from the lockers until the rooms reopen, please contact Facility Manager Steve Burkhardt at 314-367-7275 ext. 122 or sburkhardt@forestparkforever.org.
For any Forest Park Forever members or other visitors who may have planned to stop in to pick up a member premium or inquire about a tribute gift, we ask that you contact us at info@forestparkforever.org or 314-367-7275 and one of our team members will be back in touch.
---
East Waterways Project Designs Announced


November 5 – Forest Park Forever and the City of St. Louis are thrilled to announce plans to restore and greatly improve the river system and lakes on the beautiful east side of Forest Park. Funded by donors to Forest Park Forever's recently completed Forever capital and endowment campaign, the project will be a major win for the Park, millions of visitors and the regional environment. Learn more!
---
Now Open: Boeing Aviation Fields
September 4, 2019 — Boeing Aviation Fields, the popular fields for baseball and softball just north of I-64, are now open! Highlights of the new improvements include new LED lighting, which will result in more available playtime at these sought-after ballfields.
---
Now Open: Path Extension Along Kingshighway

August 16, 2019 – There is a new path making it easier for walkers, runners, cyclists and neighbors to enter Forest Park from the Central West End. The 1/3-mile extension to Forest Park's recreational path is complete on the Park's eastern side! Generously funded by supporters of Forest Park Forever, the ADA-accessible trail connects from Hospital Drive to Forest Park Parkway between Steinberg Skating Rink and Kingshighway.

Pictured: City of St. Louis Director of Parks, Recreation and Forestry Greg Hayes and Forest Park Forever President and Executive Director Lesley S. Hoffarth.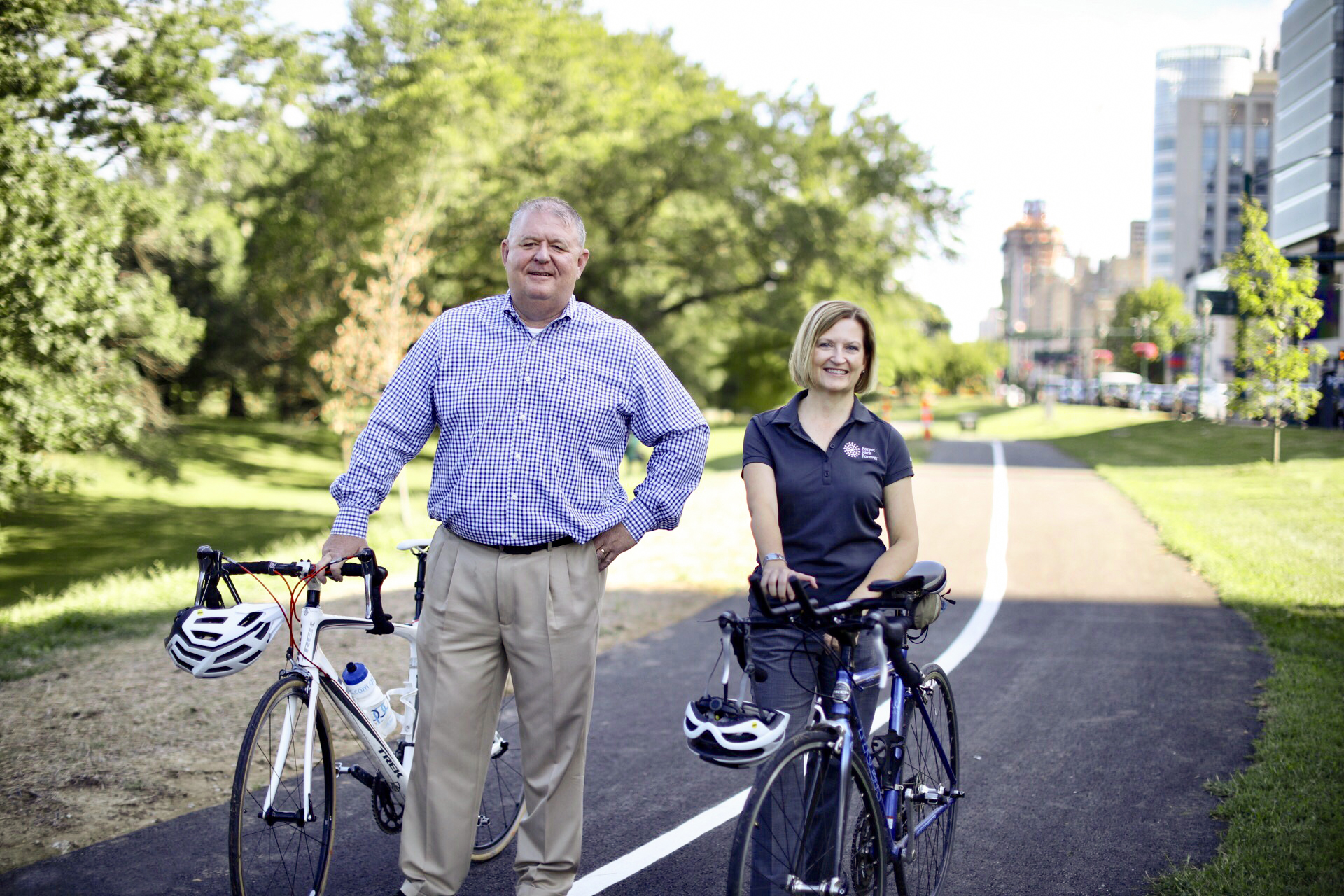 ---
Nature Playscape Coming to Forest Park in 2020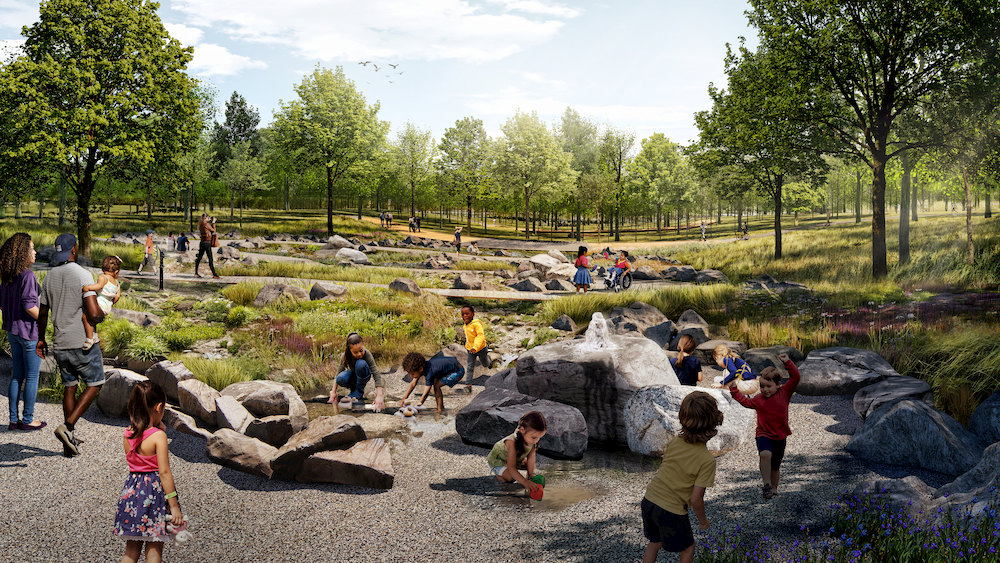 July 15, 2019 — On July 15, 2019, leaders from Forest Park Forever and the City of St. Louis held a ceremonial groundbreaking for a new Nature Playscape in Forest Park. The experiential Playscape is being created on 17 acres in the heart of the Park, between the World's Fair Pavilion and the Jewel Box.
Funded by donors to Forest Park Forever, the Nature Playscape in Forest Park has been designed to feature eight 'activity areas,' including Mounds, Spring, Meadow, a Wetland and more. A series of paths and boardwalks will connect the distinct areas, creating opportunities for kids and families to climb, splash, build and explore their way through the site. Click to learn about the key goals for the Nature Playscape project.
---