The Path Extension Along Kingshighway Is Now Open!

August 16, 2019 – There is a new path making it easier for walkers, runners, cyclists and neighbors to enter Forest Park from the Central West End. The 1/3-mile extension to Forest Park's recreational path is complete on the Park's eastern side! Generously funded by supporters of Forest Park Forever, the ADA-accessible trail connects from Hospital Drive to Forest Park Parkway between Steinberg Skating Rink and Kingshighway.

Pictured: City of St. Louis Director of Parks, Recreation and Forestry Greg Hayes and Forest Park Forever President and Executive Director Lesley S. Hoffarth.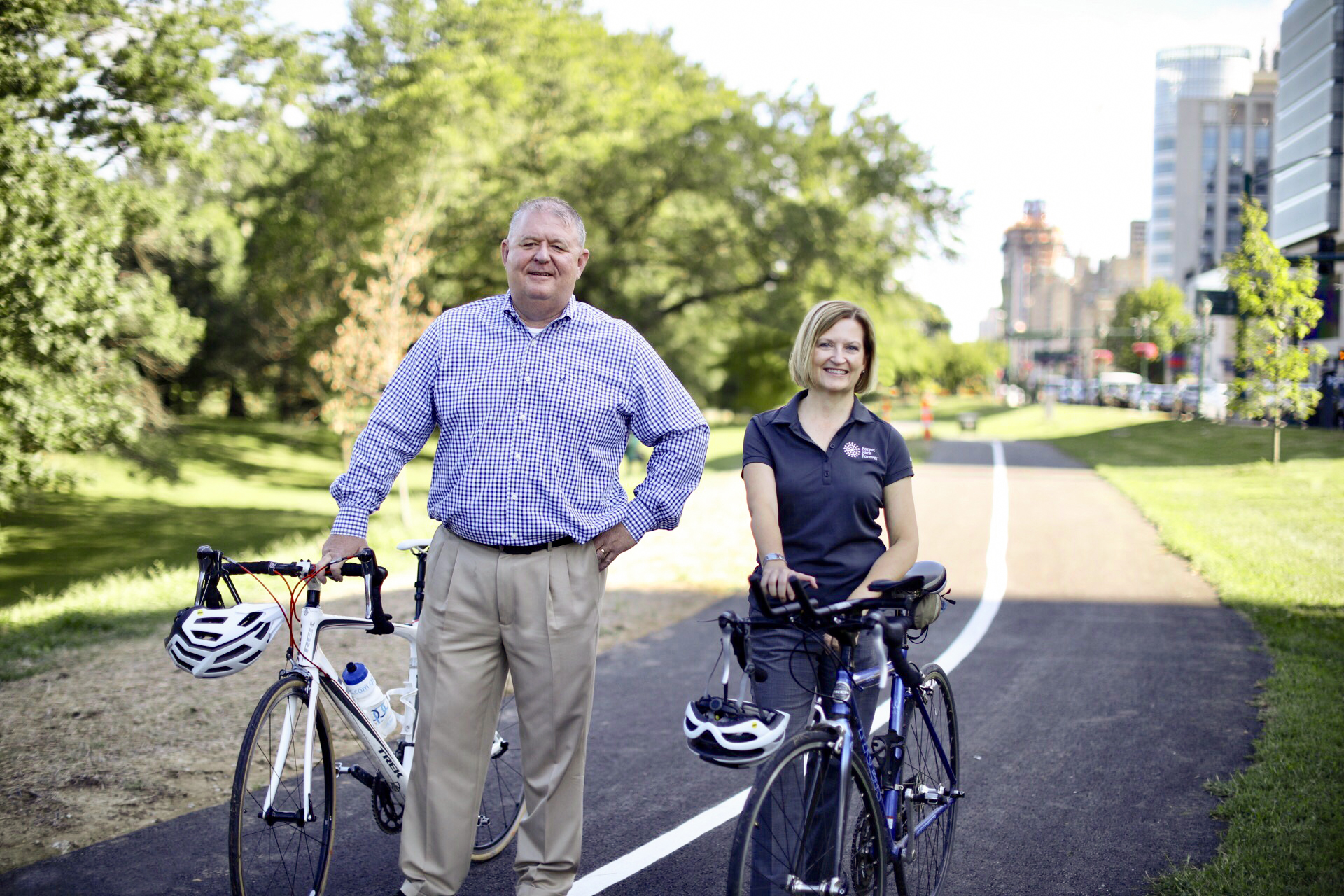 ---
Racquetball Court Improvements Begin Monday, August 5

July 31, 2019 – Racquetball court improvements are slated to begin on Monday, August 5 (weather permitting). Updates will include a new floor, painting the interior and cleaning of the glass and hardware. Improvements will take approximate six weeks to complete.
During a portion of this work, the chat path from Cricket Drive to the northside of the Visitor Center will be closed and pedestrians will be detoured to the sidewalk on the southside of the Visitor Center.
The Richard Hudlin Racquetball Courts on the east side of the Park are available for play. Location: at the intersections of Kingshighway Blvd. – Hospital Drive – Clayton Avenue across from BJC Hospital.
---
Nature Playscape Coming to Forest Park in 2020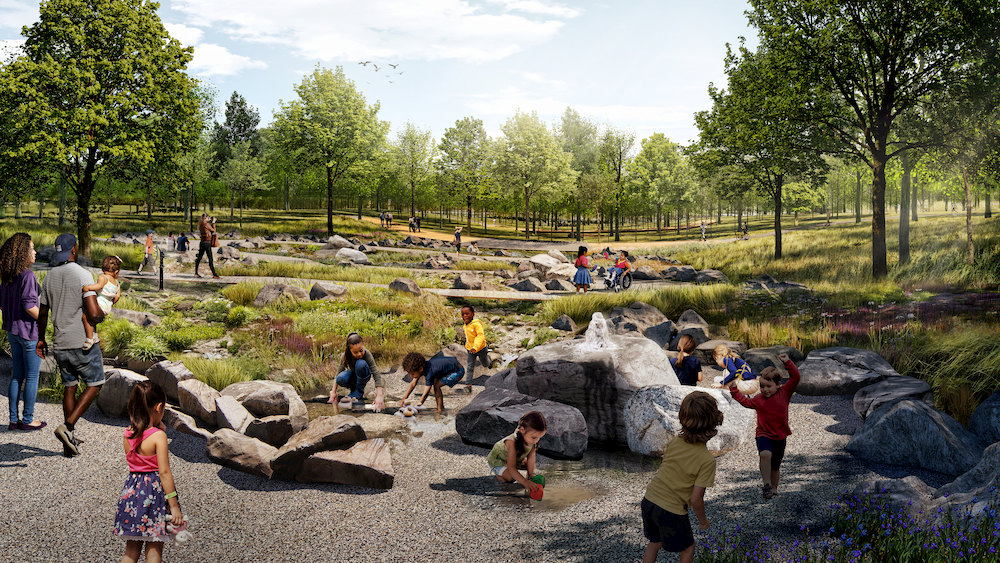 July 15, 2019 — On July 15, 2019, leaders from Forest Park Forever and the City of St. Louis held a ceremonial groundbreaking for a new Nature Playscape in Forest Park. The experiential Playscape is being created on 17 acres in the heart of the Park, between the World's Fair Pavilion and the Jewel Box.
Funded by donors to Forest Park Forever, the Nature Playscape in Forest Park has been designed to feature eight 'activity areas,' including Mounds, Spring, Meadow, a Wetland and more. A series of paths and boardwalks will connect the distinct areas, creating opportunities for kids and families to climb, splash, build and explore their way through the site. Click to learn about the key goals for the Nature Playscape project.
---
Flegel Falls Not Flowing
July 17, 2019 — Flegel Falls/Cascades are currently not flowing. We are aware of this issue and are working to have them up and running in the next few weeks.
---
OMNIMAX Theater Temporarily Closed July 29 Until Late November
July 1, 2019 — The OMNIMAX Theater at the Saint Louis Science Center will be temporarily closed July 29 until late November. The original film projection system will be replaced with laser technology as well as other exciting updates that can be found at their blog here.
---
Clayton Ave. Entrance to the Park Closed Until the End of the Summer

May 2, 2019 — The Clayton Ave. entrance to the Park that runs under Kingshighway is closed for the next few months. Thank you for your patience during this time.
---
Special Forest Park Bus Service Begins May 3
May 2, 2019 — Visitors can enjoy everything that Forest Park has to offer this summer, conveniently and comfortably, by hopping on the Forest Park Explorer. Previously called the Forest Park Trolley, the fleet of buses that move between the attractions in Forest Park provide a great option for residents, families and tourists who want to visit Forest Park and its many attractions, while staying out of the heat and helping reduce traffic congestion in Forest Park.

This year, there's an even better reason to take advantage of the Forest Park Explorer: Free rides for everyone on Saturdays and Sundays throughout the summer season. The schedule can be found here.
Metro Transit is now testing Metro Mobile, a mobile ticketing app that allows you to purchase MetroLink fare straight from your mobile device for service operated by the Forest Park Explorer.
The Metro Mobile app, available on iOS and Android devices, is part of a six-month pilot that'll provide Metro a first-hand look at how mobile ticketing performs on the Metro Transit system.
---
Boeing Aviation Fields Closed Until Fall of 2019
December 19, 2018 — Work is underway on long-planned improvements to Boeing Aviation Fields, the popular fields for baseball and softball just north of I-64. Click for highlights of this project, which will result in more available playtime at these sought-after ballfields.

---