Events
For information about events in Forest Park or to support Park maintenance, visit the public events calendar.
---
Maintenance Updates
Upcoming Tree Removal Affecting Access to Dual Path, Jefferson Drive, Steinberg Parking
As part of tree maintenance in Forest Park, City Forestry staff has identified hazardous trees near paths and roads that require removal. Upcoming work will affect the following areas:
Monday-Tuesday, July 18-19: Full closure of Jefferson Drive and no parking at Steinberg from 8 a.m. - 3 p.m.
Tuesday, July 19: Full closure of paved path between McKinley Drive and the Mounted Police Stables (along 40/64). A detour for path users will be posted during the closure, between 8 a.m. - 3 p.m.
These plans are contingent on weather conditions suitable for tree removal.
---
Skinker 'Heels' Path Closed for Resurfacing July 14
The "heels" chat path along Skinker from Lagoon to Wells is ready for its application of "chip and seal" and will be closed Thursday, July 14, while workers apply this surface. It is expected to reopen Friday, July 15.
This path's black asphalt base was replaced late last year, which is why both parts of this stretch of the Dual Recreational Path were temporarily paved. Conditions for reinstalling the chip and seal surface require hot, dry weather.
---
COMPLETED: Nature Playscape Upgrade Work to Affect Water Features, Boardwalk July 7-22
Work to improve the water features at the Anne O'C. Albrecht Nature Playscape will affect access to the loewr boardwalk and bubblers this month, however the water play features should remain on over the weekends during this work. The work Forest Park Forever contractors will focus on improving water conveyance through the swale underneath the grated boardwalk, expanding the area where water play is accessible to visitors. The intended outcome will make more surface water available for Nature Playscape visitors, while reducing the amount of water used.
Work is expected to begin July 7, with public access to the bubblers, mudpit and boardwalk restricted primarily during weekdays from July 11 to July 22. (Bubblers are expected to be accessible during the weekends, but this schedule is subject to change depending on weather and work progress.)
Thursday, July 7: Prep work begins, but Playscape Stream area will remain open over this weekend.
Thursday, July 7: Bubbler spring adjacent to the Lower Boardwalk will be turned off.
Monday, July 11: The top three bubbler springs of the Springs/Stream area will be turned off until about July 15. Metal deck grates of the boardwalk in this area will be removed for work access.
Friday, July 15: The Lower Boardwalk work should be finished and the three bubbler springs are expected to be ON for the weekend of July 16-17.
Monday, July 18: The top two bubblers will be turned off to allow for work on the swale from the second bubbler to the falls at the west pool of the Upper Boardwalk.
UPDATE July 21: These upgrades have been completed, and all bubblers are turned back on.
For more information about the Nature Playscape, maps of the area and educational resources, visit forestparkforever.org/playscape.
---
Visitor Center Closing Early June 30
Due to a staffing shortage at the front desk, the Visitor and Education Center will close at 5 p.m. on Thursday, June 30. We apologize for any inconvenience. Please consult the Park map for other restroom locations.
---
Road Closures at Muny, Nature Playscape June 9
The 31st Annual Hat Luncheon is Thursday, June 9, raising funds to maintain and sustain Forest Park.
To facilitate this two-location event, the following roads will be closed until 2:30 p.m., with traffic stewards directing visitors at each location:
Concourse Drive and Carr Lane surrounding the Anne O'C. Albrecht Nature Playscape (Playscape remains accessible by foot)
Theatre Drive in front of The Muny (the box office will remain open)
McKinley Drive at Wells
Summit Drive accessing Festival & Parking Plaza on the upper Muny lot.
---
Path Repair at Lindell and DeBaliviere
The paved path along Lindell at Debaliviere (near the Missouri History Museum) is receiving repairs and resurfacing beginning the week of May 31. During this work, a short detour is available via the section of the path that turns toward the Dennis & Judith Jones Visitor and Education Center.
---
UPDATED: Road Closure Near Zoo, Art Museum Now Planned for June 14
NOTE: The following road closure is a rescheduling of the closure originally planned for June 1. The road will be open on June 1. The plans for June 14 are subject to suitable weather.
On June 14, a large crane will be used to work on the roof of the Saint Louis Zoo's Penguin Puffin exhibit, requiring closure of part of Government Drive. Beginning about 5 a.m., Government Drive will be closed to traffic between Fine Arts Drive and Washington Drive for about 6 hours. Street parking along this stretch of Government Drive will be blocked off the evenings before this work is done.
---
Oakland Avenue Playground Work May 23-27
Contractors will be on site making several repairs and improvements to the Oakland Avenue Playground during the week of May 23-27. While the playground will remain open for most of this time, specific sections will be temporarily closed while work is done.
Planned improvements include:
Replacing the chat path with a new aggregate improve accessibility.
Additional mulch around the play turtle.
Removing the post and rope guards around two trees within the playground
Tamping down the playground perimeter edging that was pushed up due to winter freeze/thaw.
Paving the approach path from the circular landing at top of the sidewalk.
Applying a fresh application of boiled linseed oil to the natural wood elements. NOTE: The entire playground needs to be closed during this application.
Drilling weep holes in the top of turtle head snout and lower jaw to help drain water off the wood.
Other playgrounds in Forest Park:
Variety Wonderland Playground next to the Dennis & Judith Jones Visitor and Education Center (north side of Park)
Anne O'C. Albrecht Nature Playscape (by World's Fair Pavilion)

Hudlin Playground (east of Kingshighway and south of BJC complex)
---
Weekend Activity: Run, Bark, Watch
May 20-22 is a busy weekend in Forest Park, so plan your routes accordingly. Among the major events, the Shakespeare Movie Festival will screen films each evening on Shakespeare Glen, the Bark in the Park takes place around Cricket Field on Saturday morning, and the the St. Louis Children's Hospital Make Tracks Through the Zoo run takes place Sunday morning.
Visit the Events Calendar for details.
---
GO! St. Louis Races April 2-3
It will be a busy weekend at the Park April 2-3 with the GO! St. Louis Marathon & Family Fitness Weekend, which will affect road access each morning. Visit the GO! St. Louis site for route details and roads affected.
Saturday: Family Fitness Day activities begin at 7:30 a.m. and the last event, the Read, Write & Run Marathon, begins at 9:45. Expect traffic impact around the Dennis & Judith Jones Visitor and Education Center all morning.
Sunday: The marathon begins at 7 a.m. outside the Visitor Center, but the race route then exits the Park. In-Park traffic should clear by mid-morning.
---
Carr Lane Closed March 25
Carr Lane, one of the two roads that circle the Anne O'C. Albrecht Nature Playscape, will be closed Friday, March 25, from 9 a.m. to approximately 2 p.m. so crews can patch asphalt where recent drainage work was completed.
During this work, the Nature Playscape will still be accessible from Concourse Drive.
---
Partial Road Closures for Tour of St. Louis March 20
The Tour of St. Louis will race in Forest Park on Sunday, March 20, which will affect road access and parking. The circuit for the Mike Murray Classic Criterium in Forest Park includes parts of Cricket Drive, Pagoda Circle, Theatre Drive and Grand Drive, so plan your routes accordingly. The Dennis & Judith Jones Visitor and Education Center will remain open.
See race and route details at Tour of St. Louis here.
---
Prescribed Burn March 16
A prescribed burn is planned for Wednesday, March, 16, in Kennedy Forest Boardwalk South, a 4-acre unit just south of Picnic Pavilion #11. During this work, Picnic Pavilion #11 will be closed from approximately 7 a.m. - 3:30 p.m.
If time and conditions permit, we may also address a small section in Round Lake Vista as well as Wildlife Island. We do not anticipate this will require any road closures.
Follow progress and updates on the Burn Alerts page.
---
Prescribed Burn, Partial Road Closure March 2-3
Forest Park Forever plans to conduct prescribed burns, in partnership with the City of St. Louis, in the Forest Park Nature Reserve Wednesday, March 2, and Thursday, March 3. The areas targeted for this land management effort include Kennedy Forest, which would involve temporary road closure on part of Government Drive between the Zoo North Lot and the Government/Wells roundabout).
As with every prescribed burn, these plans are subject to change or even cancelation based on weather conditions. Visit the Burn Alert page for the latest details and locations.
---
Visitor Center Opening at 9 a.m. Feb. 25
Due to the winter storm, the Dennis & Judith Jones Visitor and Education Center will delay opening until 9 a.m. on Friday, Feb. 25.
---
Partial Closure on Paved Path Feb. 14-17
The early February snowstorm interrupted work to remove dead trees and other tree maintenance in the southwest corner of the Park. To safely resume this work, the paved path along the woods south of Wells Drive (between Skinker and the picnic pavilion) will be closed during working hours (approximately 7 a.m.-3:30 p.m. each day) beginning Monday, Feb. 14, up to and potentially including Thursrday, Feb. 17.
Path users will be directed to detour along Wells.
---
Prescribed Burn on Monday, Jan. 31
A controlled burn is planned for Monday, Jan. 31, starting at Deer Lake Savanna between 10-11 a.m. During this time, there is a high likelihood that Grand Drive, between Cricket Drive and Union Drive will be closed. We will be assessing weather and burning conditions throughout the day. Depending on conditions, other high priority sites will include Kennedy Forest Boardwalk Northeast & Kennedy Savanna East, and secondarily Round Lake Vista & Hatcheries Prairie.
Follow updates and learn more about this ecological management process on our Burn Alert page.
---
Paved Path Closure Jan. 31-Feb. 4: Skinker to Tamm
The paved path in the southwest corner of the Park will be closed the week of Jan 31-Feb 4, 2022, during working hours (approximately 7 a.m.-3:30 p.m. each day) for tree maintenance and removal. The closure will affect the path from where it crosses Wells Drive (near Skinker Boulevard) to Tamm Avenue. Crews will keep the gravel path next to it open when possible, but a a loader will run across that path to load branches.
Alternatives: The walk along Wells, where the closure begins, is the most direct route to rejoin the path at Tamm Avenue.
---
Forest Perk Cafe Closed Till Spring
The Forest Park Cafe (inside the Dennis & Judith Jones Visitor and Education Center) will be temporarily closed for the season after Sunday, Jan. 23, 2022, with plans to re-open later in spring 2022.
---
Oakland Avenue Playground Opens

November 4, 2021— The City of St. Louis Department of Parks, Recreation and Forestry and Forest Park Forever are pleased to announce the renovated Oakland Avenue Playground is now open to the public. The playground is located on Forest Park's southern edge near the intersection of Tamm and Oakland Avenues. The $300,000 project was funded by donations to Forest Park Forever, including a lead grant from the PNC Foundation, and the City of St. Louis.

For the full release please click here.
---
COVID-19 Update
July 24, 2021— We are aware of the latest St. Louis City and County guidelines and are closely following the advice provided by our local health officials related to the COVID-19 pandemic. Per the City of St. Louis face covering mandate for indoor spaces, we will be requiring all Park visitors who enter the Forest Park Visitor Center to wear a face covering beginning July 26.

For the full City of St. Louis guidance, click here.
---
The Anne O'C. Albrecht Nature Playscape Is Open to the Public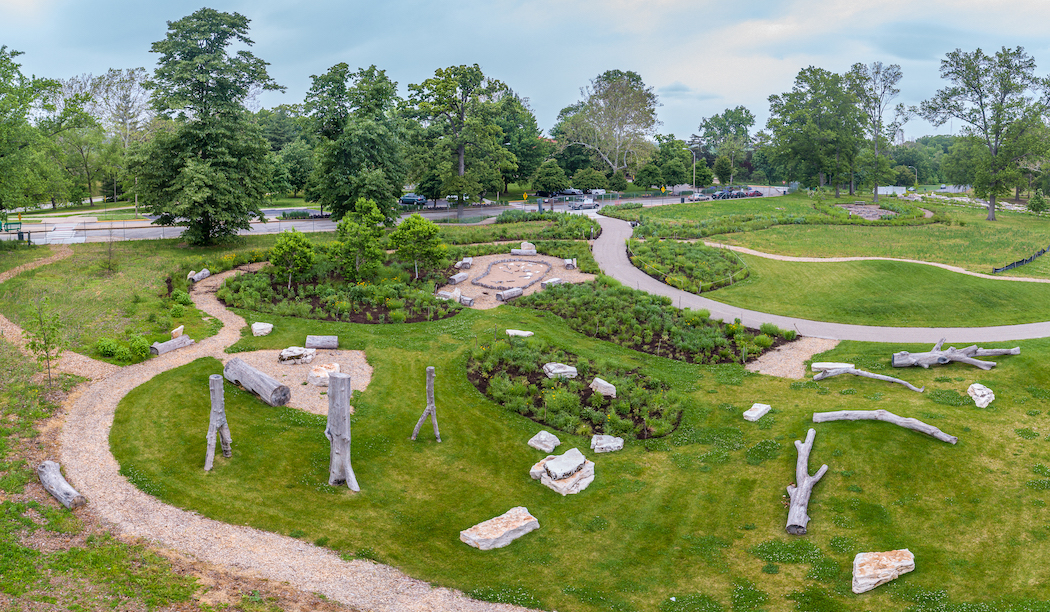 June 2, 2021 — Forest Park Forever and the City of St. Louis Department of Parks, Recreation and Forestry are pleased to announce that the new Anne O'C. Albrecht Nature Playscape in Forest Park is now open to the public!
This highly anticipated opening follows nearly two years of construction to transform what had been 17 acres of turf grass into a one-of-a-kind experiential play space with natural landscapes that include native and diverse species. The project was funded by donors to the nonprofit conservancy Forest Park Forever and completed in partnership with the City of St. Louis. Read more here.
---
New World's Fair Pavilion Comfort Station & Gathering Plaza


September 30, 2020 – The City of St. Louis Parks Division and Forest Park Forever are pleased to announce the opening of a significantly renovated comfort station and new gathering plaza in Forest Park near the World's Fair Pavilion and the future Nature Playscape. What had been just a partial-year restroom has been transformed into a renovated and modernized building with year-round restrooms and a spacious new gathering plaza where visitors can meet, unwind and even charge their phones. Learn more about the highlights here.