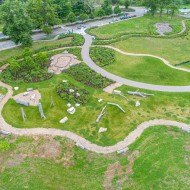 Anne O'C. Albrecht Nature Playscape
The Anne O'C. Albrecht Nature Playscape is an experiential green space built to enable visitors, especially children, to connect with nature and engage their senses as they explore, discover and learn. The destination features nine distinct activity areas — including Mounds, a Spring, a Meadow, a Wetland and more — and a series of accessible paths and boardwalks that connect them. Visit the website below for more. NOTE: The water play feature usually turns on in April but is delayed this year due to some maintenance that required warm, dry weather. 
Location Details
6:00 a.m. until 10:00 p.m.