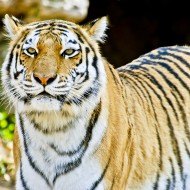 Saint Louis Zoo
Voted America's #1 Zoo by Zagat Survey/Parenting magazine and home to over 12,000 animals, the Saint Louis Zoo is a grrreat way to spend a day exploring for lions, great apes, zebras and more. There is plenty to see and do at the Zoo. Splash down in Sea Lion Sound where you can watch playful sea lions gliding gracefully overhead in our first-of-its-kind underwater sea lion viewing tunnel. Then, venture into Penguin & Puffin Coast with its rugged coastlines, towering rockscapes and underwater viewing of penguins and puffins. And don't forget to take a journey through four continents in Rivers Edge, where you will see painted dogs, bears, hyenas, hippos, cheetahs and a three-generation herd of elephants.
Location Details
The Saint louis zoo is open.
Advanced reservations and masks are required. Click here for more information.
HOURS:
Monday, August 16 thru Thursday, October 14
Daily: 9 a.m. - 5 p.m.
Special Hours:
Saturday, September 4 – Monday, September 6 (Labor Day Weekend)  
8 a.m. - 7 p.m.  

Friday, September 10 
9 a.m. - 12 p.m. Closing early for ZOOFARI
GENERAL ADMISSION 
Free (see website for exhibition costs)
Phone
Address
One Government Drive
St. Louis, MO 63110