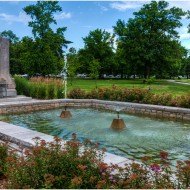 Musicians Memorial and Fountain
Near the northwest exit to Skinker Boulevard stands the limestone stela monument known as the Musicians Memorial. Dedicated in May 1925, it honors Owen Miller and Otto Ostendorf, who were members of the St. Louis Symphony Orchestra and served for many years as secretary and treasurer, respectively, of the American Federation of Musicians. The Federation donated the money for its construction.  
Location Details
HOURS
6 a.m. - 10 p.m. (Park hours)
Victor Holm, a professor of sculpture at Washington University, designed the stela. A Danish-American artist, he was born in Copenhagen in 1876. (Holm's modernistic limestone bear, which is on the west side of what is now the Peabody Opera House, is another well-known St. Louis work; the bear on the east side was sculpted by one of his students.) 
The bronze relief tablet of Musicians Memorial depicts the god Pan with his pipe to his lips, surrounded by other allegorical figures. There is a low basin in front of the stela with drinking fountains for Park visitors. 
A reflecting pool and fountain stand in front of the monument. The fountain was restored in the 1980s by KMOX Radio and its General Manager, Robert Hyland, in memory of Jack Carney. Carney hosted an influential morning show on KMOX for 13 years and died suddenly in 1984 at the age of 52.