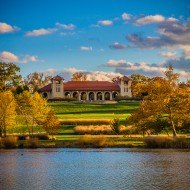 World's Fair Pavilion
The World's Fair Pavilion was built in 1909 with proceeds from the 1904 World's Fair held here in Forest Park. Government Hill's colorfully lit fountain and reflecting pool were added in 1930. While the entire area had fallen into disrepair by mid-century, a transformative renovation between 1998 and 2007 restored it to its former glory. Throughout this special Park location, inscribed bricks commemorate the support thousands of donors have provided to restore and maintain the iconic treasures of Forest Park. The World's Fair Pavilion is one of the region's very special sites for wedding receptions, fundraisers and other special events.
Location Details
ADMISSION
None. 
Hours
6 a.m. - 10 p.m. (Park hours)
Phone / REntal
To check rental availability of the Pavilion, call the CIty's Parks Department at (314) 289-5344 between 9 a.m. and 4 p.m. Learn more about rental specifics at the website linked to above.