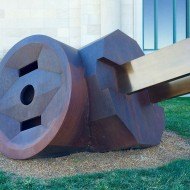 Giant Three-Way Plug, Scale A by Claes Oldenburg
Installed on the grounds of the Saint Louis Art Museum, this sculpture by American Pop artist Claes Oldenburg is part of the Museum's permanent collection.
Location Details
HOURS
6 a.m. - 10 p.m. (Park hours)
Claes Oldenburg, American (born Sweden), born 1929
Giant Three-Way Plus, Scale A, 1970-71 | Cor-Ten steel and bronze
Claes Oldenburg produces monumental sculptures of everyday consumer objects. In this work, an enormous three-way electrical plug lies partially buried in the ground. The artist has described it as resembling "an implement left over from a war, returning to nature." Oldenburg first installed the sculpture in this location in 1971, noting that the plug reminded him of historic architecture. Here, its arching lines and recessed spaces cpmplement the classical design of the Museum's Main Building. 
Gift of the Shoenberg Foundation, Inc.