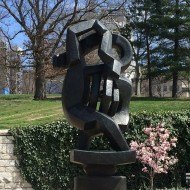 Joie de Vivre
Joie de Vivre was created by the artist Jacques Lipchitz in 1927. The sculpture on view in Forest Park is one of seven casts. The artwork was a gift of Mrs. Mark C. Steinberg, who had previously donated the funds for Steinberg Skating Rink, where the sculpture has been displayed since 1962. 
Location Details
HOURS
6 a.m. - 10 p.m. (Park hours)
Born Chaim Jacob Lipchitz in 1891 in Lithuania, the sculptor of Joie de Vivre changed his name to Jacques Lipchitz when he moved to Paris to study art in 1909. There, he was an integral part of the avant-garde group that included Pablo Picasso, Amedeo Modigliani and Juan Gris. 
Joie de Vivre (Joy of Life) was created in 1927 when Lipchitz was moving away from Cubism and adopting the more open form embodied in this bronze sculpture, with its ribbon-like contours and pierced spaces. The inspiration for the piece was Lipchitz's sister, who was in ill health. He hoped to encourage her to cling fast to life by creating a representation of the joy of existence. For as he once said, "Art is an action against death. It is a denial of death."